I don't know how I hadn't seen this before, but clearly I was missing something. Trick 'r Treat is a fantastic movie, or at least this particular Halloween obsessed, starts-planning-in-July type of person thinks so. I LOVE IT.
So you have this kidlet named Sam, who is like the spirit of Halloween, going around town reminding people to keep to tradition. Wear a costume, hand out candy, decorate, don't blow out the candle in the jack o'lantern too early, etc. Except this is a thriller/horror movie, so it gets a little more
persuasive
. But, c'mon, look at this kid: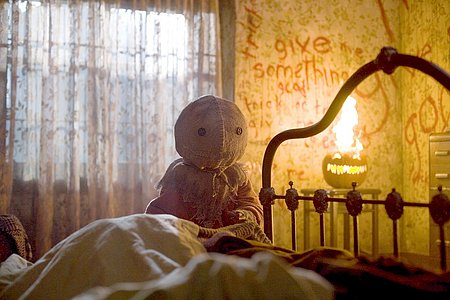 He's cute! Look how happy that face is. Please ignore the walls and the flaming pumpkin.
So, yeah. Horror movie that isn't just scary/gory/whatever so it's good for Halloween - it's really all about the best holiday ever.
Anybody? Anybody? Having just discovered this fantastic thing, now I want to share it with everyone I've never met.